Greening up the Greens
Scenario
You are a student intern for the summer at Fall Oaks Golf Course in eastern Nebraska. After working there for a month you notice that the greens are not in the greatest condition. In the morning the greens are a lush green color, but then during the middle of the day areas turn bluish-green to brown. The greens seem to recover their green color later in the day, but the plant density (thickness of the greens) has been steadily decreasing since you started working there in early June. The other intern, who worked there last summer, comments that it sure didn't look like this last year!
You decide to impress your boss by taking the initiative to determine how to correct the problem. Before you can make a recommendation, though, you need to gather some information to figure out what the problem is and how it can be remedied.
Your first step is to find out more about the management practices for the greens. You can ask your boss, a Certified Golf Course Superintendent, any of the following questions.
| | |
| --- | --- |
| How much is the golf course used? | There is a significant level of rounds played (> 45,000 per year), with most summer rounds being played in the morning or late afternoon. |
| What are the greens like? | The greens are creeping bentgrass mowed at a 0.10 inch (yes, only a tenth of an inch!!) |
| Are the greens fertilized regularly? | The greens are fertilized with liquid fertilizers every 14 days. |
| How is pest control addressed? | The greens receive routine pesticide applications to suppress disease and insect activity. |
| Are the greens receiving enough water? | The greens are irrigated with a state of the art, computer controlled irrigation system using on-site weather information and University based estimates of evapotranspiration (ET) every night and the irrigation system is functioning correctly. |
| What was the temperature in June & July of 2004? | See figure below |
| What was the temperature in June & July of 2005? | See figure below |

Describing your findings to your boss, he recommends a management technique called "syringing" be done to the greens in mid-afternoon. He describes "syringing" as a light application of water that is sufficient water to wet the green surface but move minimally down into the soil.
As a result of your accurate assessment and consultation with your boss, you begin syringing the greens. Over the next few days you see a marked improvement in their appearance.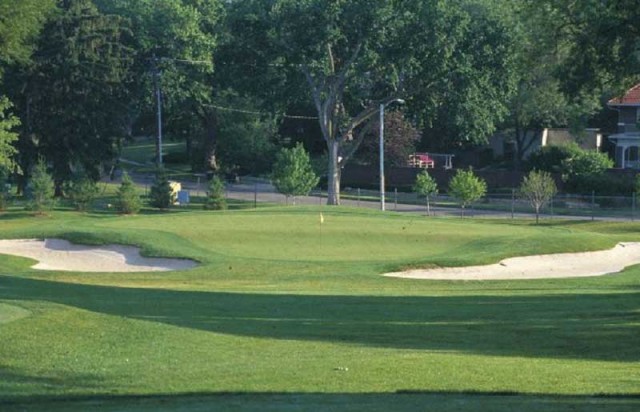 Copyright 2005
Development of this lesson was supported in part by the Cooperative State Research, Education, & Extension Service, U.S. Dept of Agriculture under Agreement Number PX2003-06237 administered by Cornell University, Virginia Tech and the American Distance Education Consortium (ADEC) and in part by the New Mexico and Nebraska Agricultural Experiment Stations. Any opinions ,findings, conclusions or recommendations expressed in this publication are those of the author(s) and do not necessarily reflect the view of the U.S. Department of Agriculture.